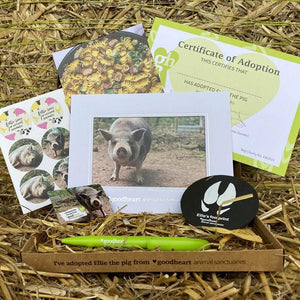 Our residents are all individuals with their own personalities and stories - and now you can be part of that! By adopting a rescued farm animal, you will help us to care for both them and their friends here at Goodheart.
What's more, you'll also receive a fabulous adoption box containing all these goodies!
a personalised adoption certificate from our founders David & DJ
a framed photograph of your chosen animal
a beautiful welsh slate coaster engraved with the footprint of your new friend
a recipe card featuring a delicious plant-based dish to create at home
a Goodheart fridge magnet, pen, and sheet of stickers
PLUS regular email updates from your new friend!
Our adoption boxes make fantastic gifts for friends and family of all ages and are also a great way to treat yourself while doing something worthwhile.
Adoptions last for 12 months, and so email updates will stop after this time unless you adopt again.
_________________________________________________________________
Ellie's rescue story:
I'm Ellie the pig and you can adopt me!​​
I came to live at Goodheart back in 2019, when I grew much bigger than my humans expected. They thought I was going to stay as a tiny piglet forever, but that's something of a myth in the animal world! I'm still just as cute however, and now I get to spend my days living in the beautiful Pig Woodland here at the sanctuary with my best pals Jasper and Kermit.
Maybe I'll see you at the sanctuary someday – I'll be sure to come up and say hello with a friendly wag of my tail.
Just delightful
My daughter chooses an animal to adopt every school year, this year it was Ellie the pig - loved the box over the moon